Grand Riviera Suites - LOCATION
Located at the heart of Manila, Roxas Blvd. Corner Padre Faura Streets, Malate, Manila.
Grand Riviera Suites, when it launched and officially opened to the public, garnered a lot of attention as it is well-positioned at Roxas Boulevard in Manila. When talking about Roxas Boulevard, you can't dismiss the Manila Bay in the conversation. But the Manila Bay is not the only thing that makes this location ideally strategic, although residents won't complain about the fact that they can wake up to its stunning views or watch the internationally famous sunset from their windows. Roxas Boulevard is also a historic district in Manila, which is known as a hub for cultural, leisure and entertainment activities.
For residents that travel to and from Grand Riviera Suites to other parts of Manila, you can take advantage of its proximity to major thoroughfares in Metro Manila. For example, EDSA, Taft Avenue and Quirino Avenue are easily accessible from Grand Riviera Suites. It is also close to international and domestic airports such as the Ninoy Aquino International Airport Terminal 1.
In addition to these transportation systems, Grand Riviera Suites is located within a few blocks or walking distance from prime lifestyle destinations. If you need to do some shopping, you can go to SM Mall of Asia, Robinson's Place Manila and Harrison Plaza. If you need to go out and indulge in the local culinary landscape, there are several restaurant options no matter what you are craving for! If you want Chinese or Oriental style food, go to Emerald Garden Restaurant or Sze Chuan House in Roxas Boulevard. For a taste of authentic Filipino food, go to Lydia's Lechon and Restaurant. If, on the other hand, you want American style cooking and chicken, you can choose between Kenny Roger's Roaster or Army Navy. And for gourmet dining experience, you can go to Spiral or Midas Hotel and Casino.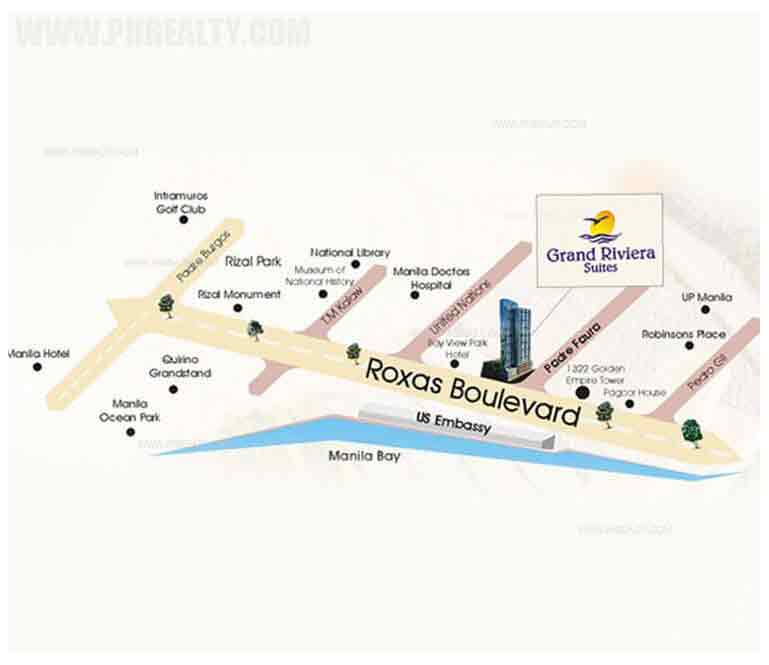 If you have children or go to school yourself, Grand Riviera Suites is going to be an ideal address for you. There are plenty of schools and universities to choose from that are close to Roxas Boulevard. For example, UP Manila campus is within a few blocks away. De la Salle University and St. Paul's University are also located close by. Other schools that are worth considering for your child (if you want them to enjoy easy access to and from this condominium) include Ermita Catholic School or Southern Institute of Maritime Studies in Manila.
There are also top medical and health care facilities that are within less than a kilometer away from this condominium. For example, you can go to Philippine General Hospital, Manila Doctors or St. Luke's Medical Center Extension Clinic for your health and medical needs. If you want to explore and embrace the culture of Roxas Boulevard, you can find many nearby landmarks and monuments too. Aside from Manila Bay, you may explore the following sights and attractions for your recreational fulfillment: Manila Ocean Park, Quirino Grandstand, Intramuros Golf Club, Museum of National History, National Library, and the Rizal Monument. A few other notable buildings are also located nearby such as the US Embassy, the classic Manila Hotel, and PAGCOR House.